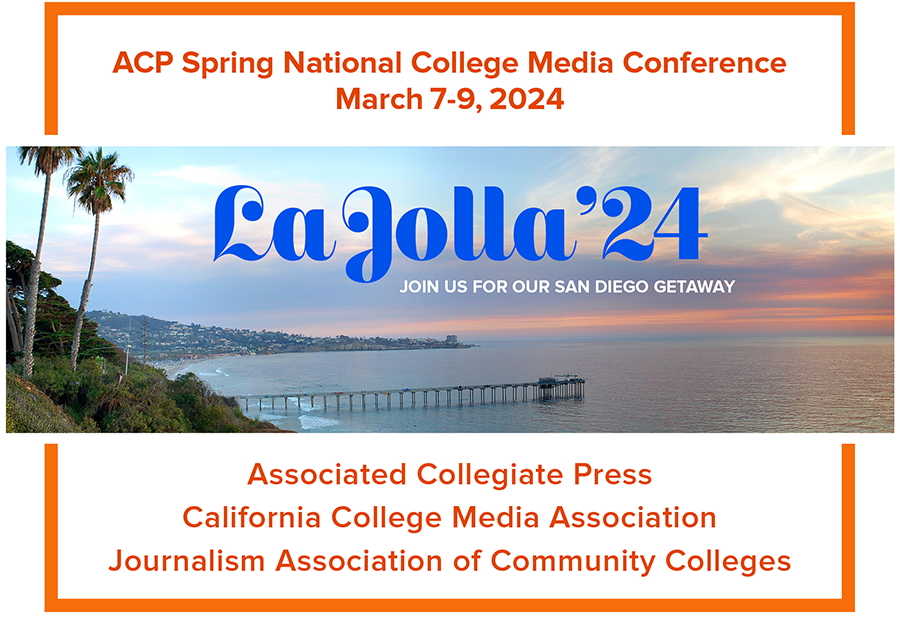 Boost your publication — and your skills — with the training you need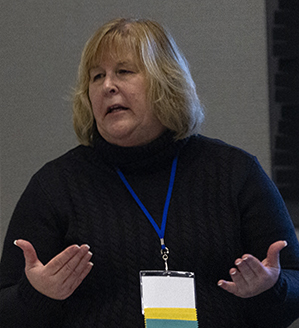 Advertising & marketing speaker
Kathy Simon
Central Michigan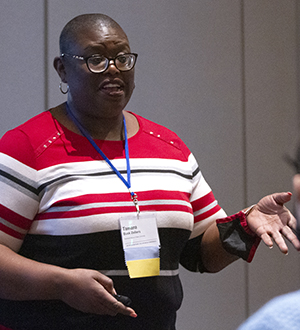 Past speaker
Tamara Zellars Buck
Southeast Missouri State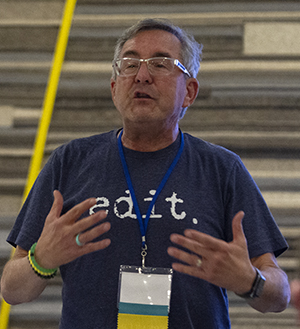 Past speaker
Gary Metzker
Cal State Long Beach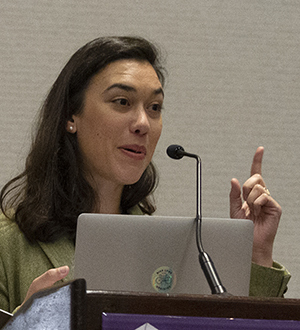 Past keynote speaker
Samantha Melbourneweaver
AME for audience / Los Angeles Times
ADVERTISING
SALES & MARKETING
STAFF RECRUITMENT
SPORTS REPORTING
LEADERSHIP
REPORTING & EDITING
ACROSS PLATFORMS
DIGITAL STORYTELLING
VISUALS & DESIGN
MAGAZINE
CONTENT & EDITING
YEARBOOK
PLANNING & TRAINING
SOCIAL JUSTICE
REPORTING & INCLUSION
RETOOLED PRINT PRODUCTS, PDFs & NEWSLETTERS
ACP returns to San Diego 

and to beautiful La Jolla
It's one of our favorite sites for one of our best conferences — and a welcome destination in the spring.
This conference brings together collegiate journalists and advisers from across California and across the nation, with helpful sessions, critiques, advice and feedback.
Our sessions focus
on topics you need 
From advertising and marketing to reporting across platforms, our breakout sessions will tackle the topics that you need — for your publication, your staff, your readers and your career.
We'll include the fundamentals and then focus on the latest trends in the fast-changing environment of collegiate journalism and media.
Leading our dozens of sessions will be experienced journalism professionals and award-winning advisers — speakers whose expertise can help you at your skill level.
We're planning a much-needed boost to conclude the academic year and prepare you for what's ahead.
We also welcome your ideas for session topics at the ACP spring conference.
> Submit a session proposal     > Email your ideas for a session topic
Join us to celebrate your success
ACP will announce its top national awards, the Pacemakers, in business, online and yearbook, as well as its Individual Awards in business and advertising.
The conference also celebrates the top collegiate work among California colleges and universities, with the year's CCMA and JACC award winners.
ADVERTISING SALES
& MARKETING TRACK
Put our sales & marketing track
to work for you
Take your sales team to the next level with sessions in our sales and marketing track:
Every second counts:
Working with the modern account executive's work/life balance
Branding, marketing and monetizing your media company
Molding good talent into dynamic account executives and managers — from Week 1 to graduation
12 sponsored social posts in 12 minutes
Our sales & marketing presenters include
Jon Schlitt
Mustang Media Group, Cal Poly San Luis Obispo
Kathy Simon
Central Michigan Life, Central Michigan University
Get helpful advice
from a critique
Our on-site media critiques are one of the most popular features of the convention, with common-sense suggestions for improvement.
Enter Best of Show
for the conference
Celebrate this year's work through the ACP Best of Show competition, with both Individual Recognition and Staff Recognition categories.
And rally your staff to vote for our People's Choice Awards on Friday afternoon.